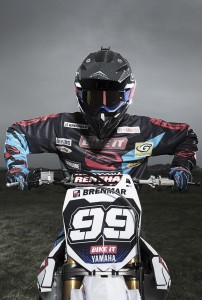 It wasn't supposed to be an evening shoot for MOTO magazine. But when the team boss of Cosworth Yamaha motocross pro Max Anstie struggled to get the bike and right riding kit for his new signing to the shoot in time, the sun fell so there was no choice but to shoot in twilight.
The rider could barely see, made a bit worse by two large Elinchrom Ranger flashes pumping out loads of light to light the scene. And he insisted on wearing dark-tinted goggle lenses for the super-cool look.
But the shoot worked pretty well, made the cover of MOTO magazine and shooting late on made the dull and uninteresting white sky go a darker, more atmospheric tone. Especially using high-speed sync thanks Pocket Wizard Mini TT5 and FlexTT5 transceivers.